tree : Tree of Life (tree21)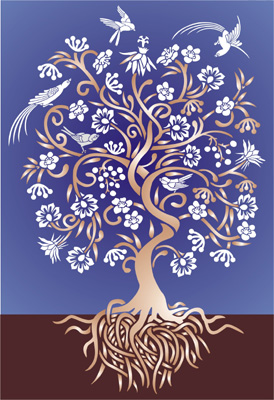 An example of how one of our customers has used this tree of life stencil. Nina says...
I am not an artist. I'm not even a very good stenciler. But... I have fun. I took a piece of canvas about 26" x 38" and covered it with gesso. I added a layer of acrylic paints going from light yellows (for the sun) to green (for the earth). I then painted various foam stamps with acrylic paints and stamped them on the surface. I stamped all kinds of things including hearts, flowers, etc. I tried to keep the stamped colors also in light shades. Next I applied the stencil. After roughing in the shape with heavy body acrylics, I pulled the stencil off and added more paint using paint pens and Sakura glaze pens.
FOR EXPEDITED SHIPPING... $40 extra will be added to your order. A Courier Service will be used and you will be able to track your order.
Your Shopping Basket
Quantity
Item Code
Description
Price
Action
Your shopping basket is empty