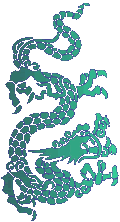 Page 1 of 11
Next Page >
The photographs on this page have been sent to us by customers showing how they have made use of our stencils. Click on any image to take you to view in detail.



Stencilled African Ladies from Janice. "Simply brilliant stencils! There is such movement in them. They look great in between the Moroccan doors."


Stencilling from Jeff Raum and his team. This tablecloth and napkins are destined for an international Diwali festival in Kenya


These images have been sent to me by John in the U.S.

John tells me that there is more to add to this cabinet.

The Eiffel tower and The Statue of Liberty can both be found in our Architecture Catalogue and the Humming Bird here.


Sue wrote "My first big project. Wardrobe doors for a friend. Used your beautiful stencil with chalk paint and added some butterfly and dragonfly moulds."


Janice sent these photos of her stencilled door. She said " Your Moroccan stencils are really exceptional, we love them." Moroccan catalogue / Trompe catalogue.


| | | |
| --- | --- | --- |
| Janice has brought the outside inside with the clever use of our willow stencil from our Foliage catalogue. | Garden Wall from Spain Janice from Spain has transformed her outside wall using our stencils. Most of the stencils used are from our Watergarden Catalogue. | Using rich colours, Janice has transformed an interior door with this custom Moroccan arch. This design can be found in our Moroccan catalogue. |
| | |
| --- | --- |
| | |
| Before | After |

I really enjoyed your stencils! I've had a dream of painting a mural for several years already. I was in Europe where the poppies grew wild and absolutely fell in love with poppies. Your stencils made it possible. Though it looks far from perfect, I had lots of fun painting it. I couldn't decide if I wanted to paint the poppy centers a different color such as black or no so I decided to see if it bothered me to leave them orange.

I loved the quality of the stencils.

Thanks for the great stencils.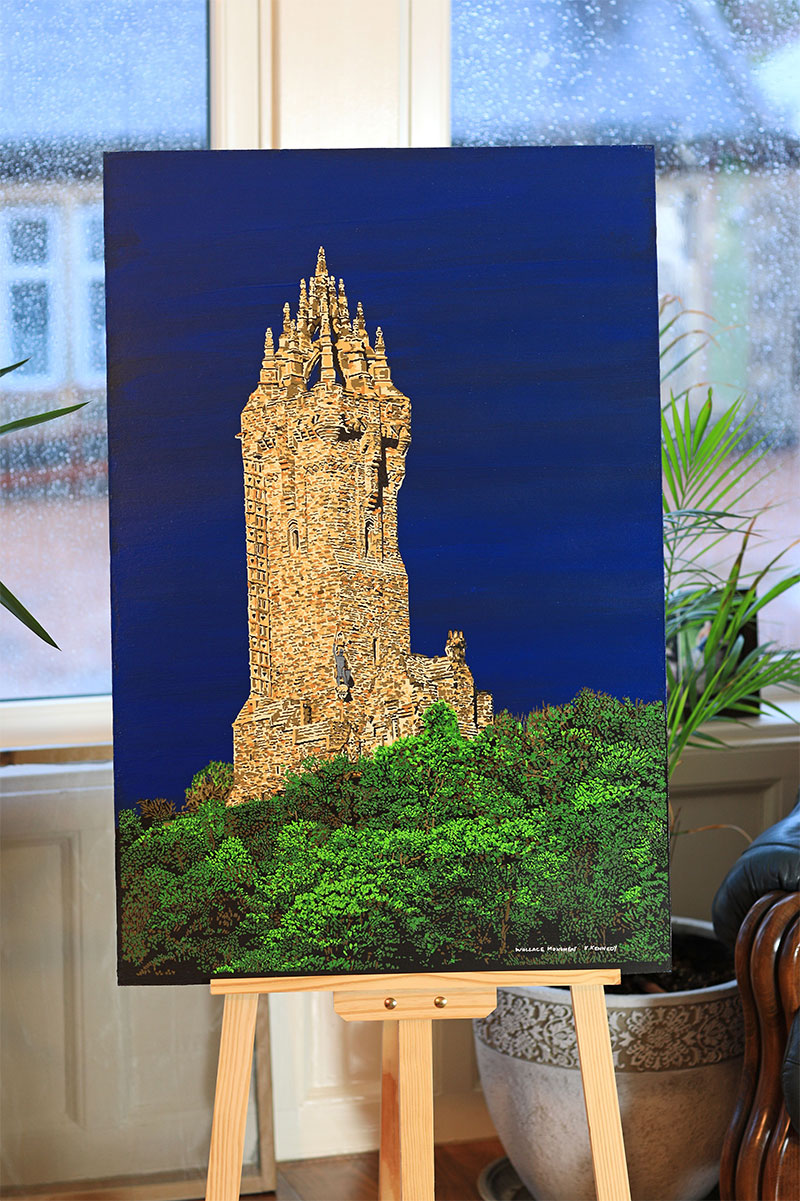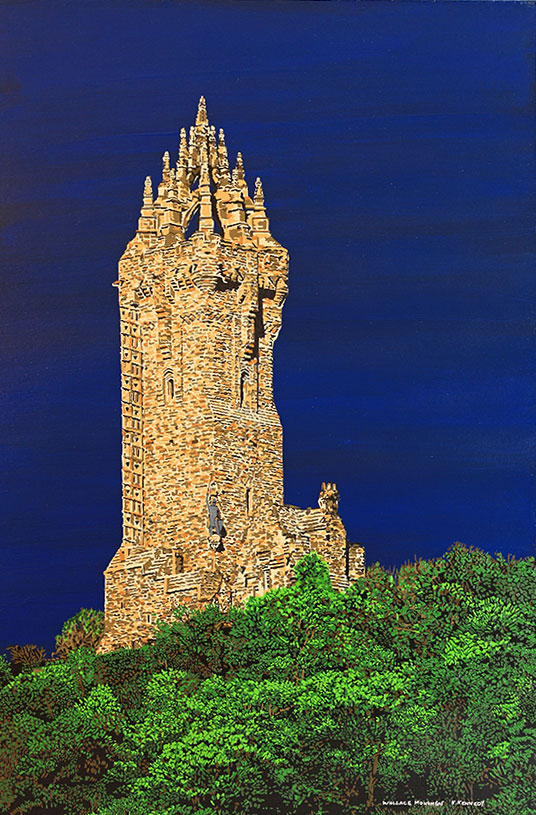 This painting of The Wallace monument was created by Kevin Kennedy using a specially commissioned layered stencil.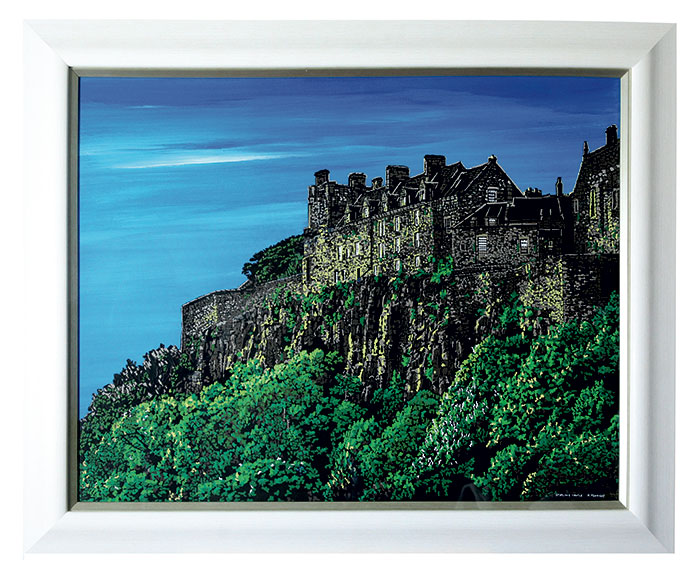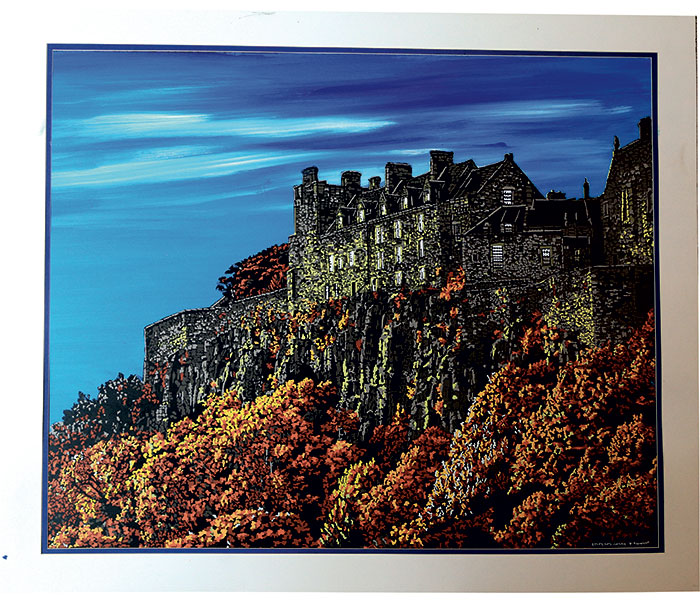 I was commissioned by Kevin to create a stencil of Stirling castle.

This stencil has eight layers.

The artist Kevin experimented with different colours through the cut shapes in the different layers.

These two images are the result of his endeavour.

I think Kevin's sunlit castle in Spring and Autumn looks stunning.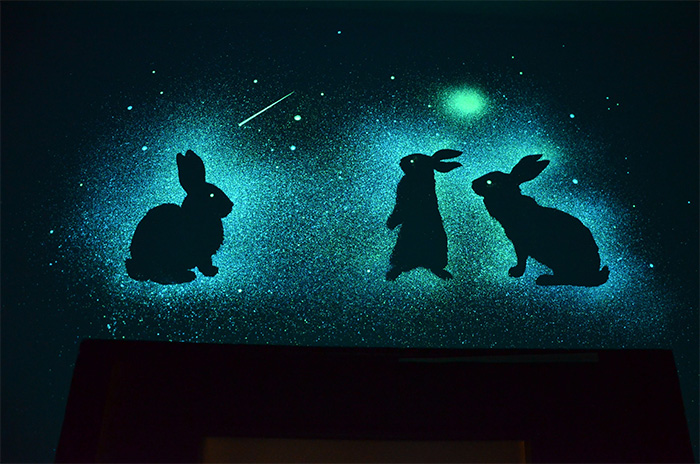 Illustration using three Rabbit cutouts and glow in the dark paint (Animal 111).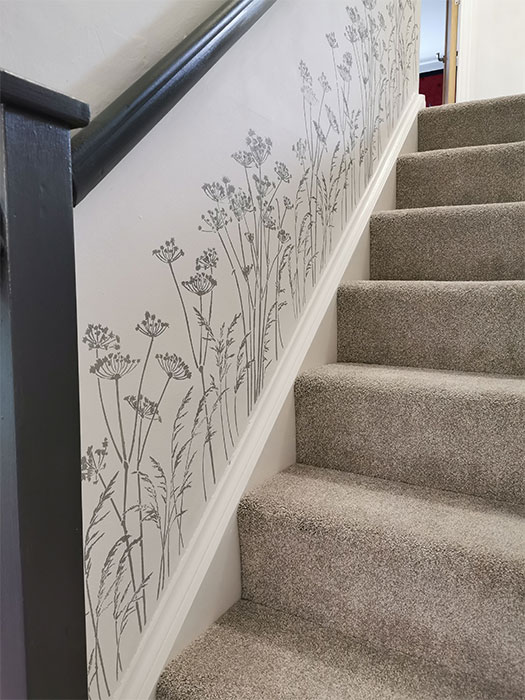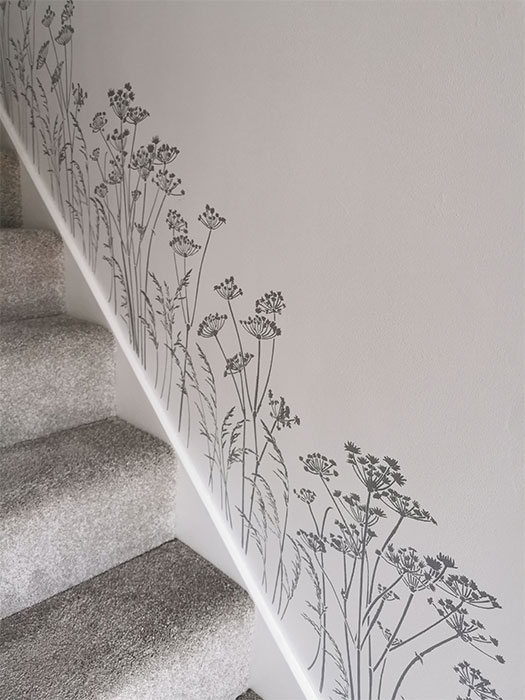 David and Elaine wanted to use my cow parsley stencil design for their stairs which have a rise of 40 degrees. They were very happy with the stencil I made for them and the results they achieved.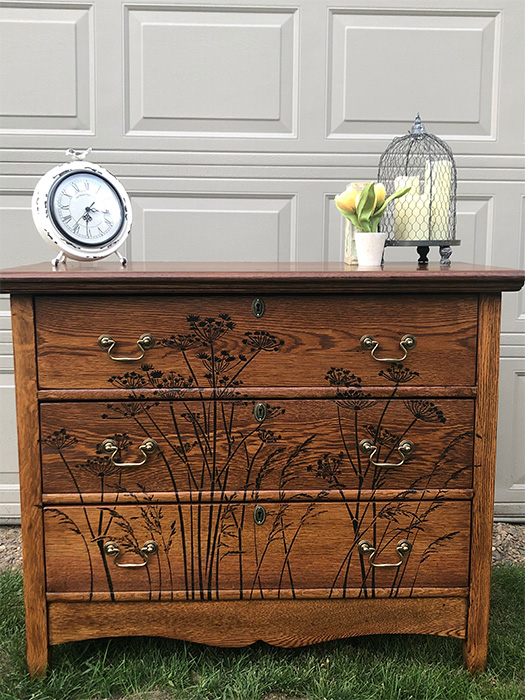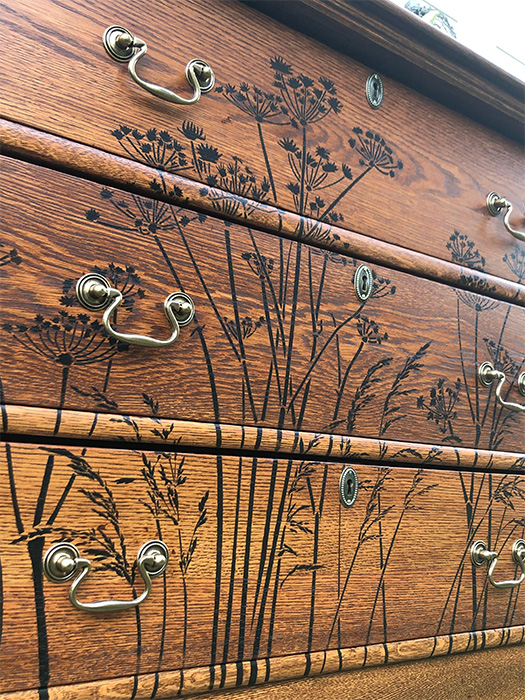 Some beautiful stenciling by Carol on her dresser using our cow parsley and grasses stencil. Flowers 37.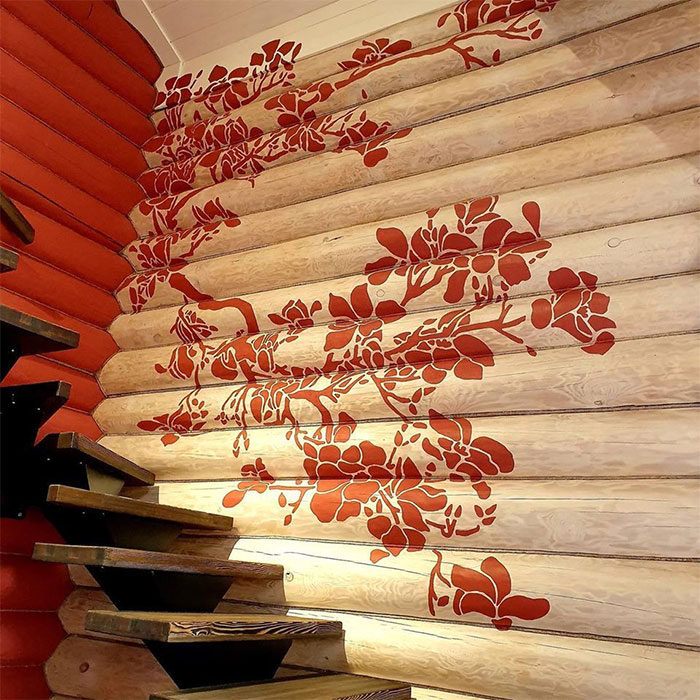 From our flower catalogue, this work shows a bespoke larger version of our magnolia design. It has been stenciled in a single colour to tie in with the painted wooden wall.



These canvases use the predator stencils from our animal catalogue and the leaves, ferns and grasses from our foliage catalogue.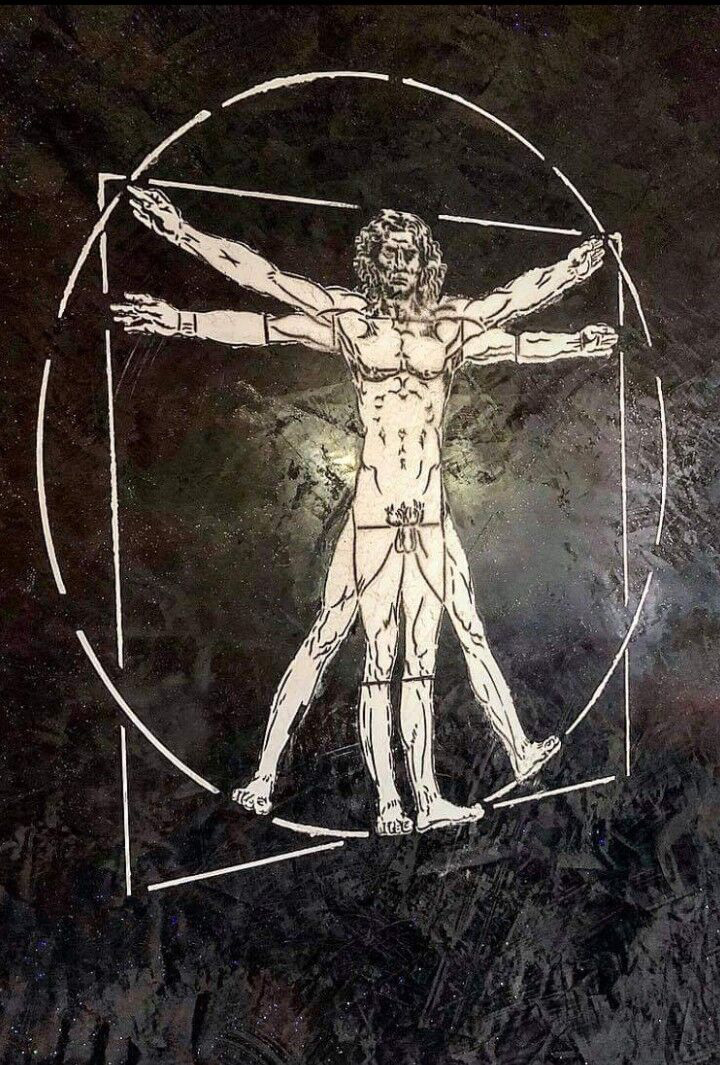 Black Marble plaster with quartz inlay and a stencilled Vetruvian Man from our historic catalogue.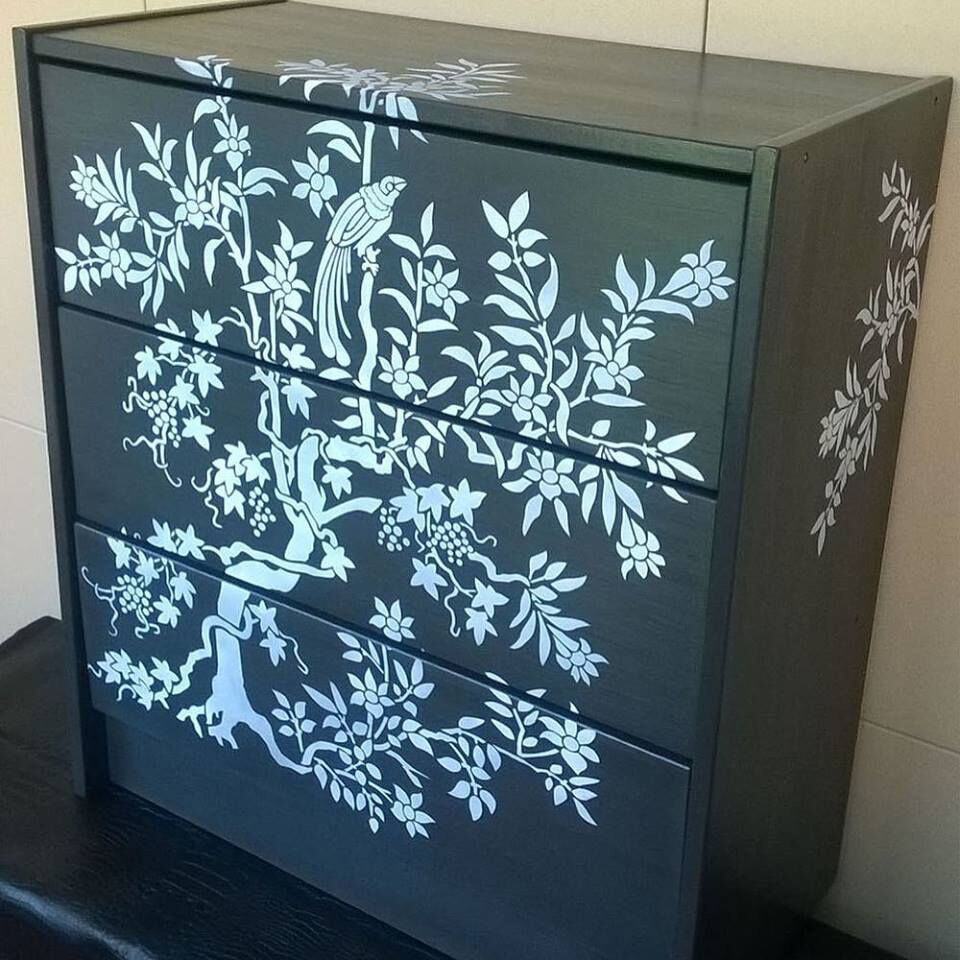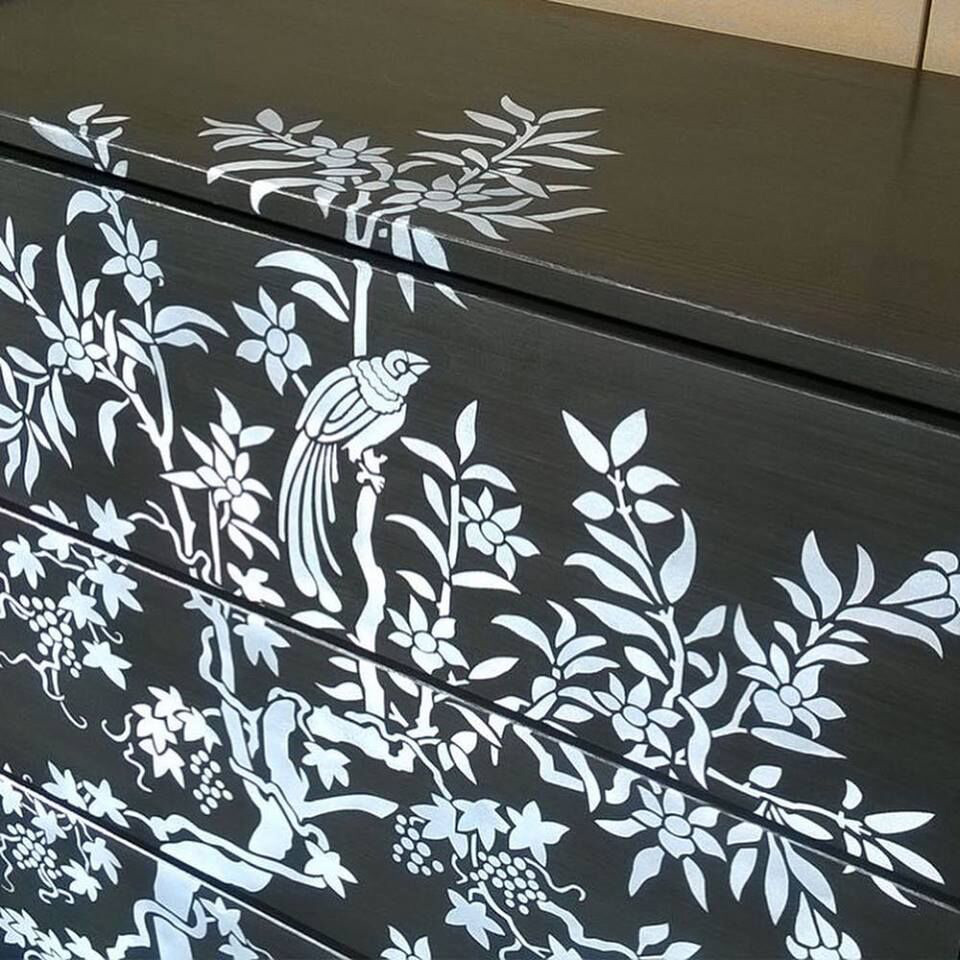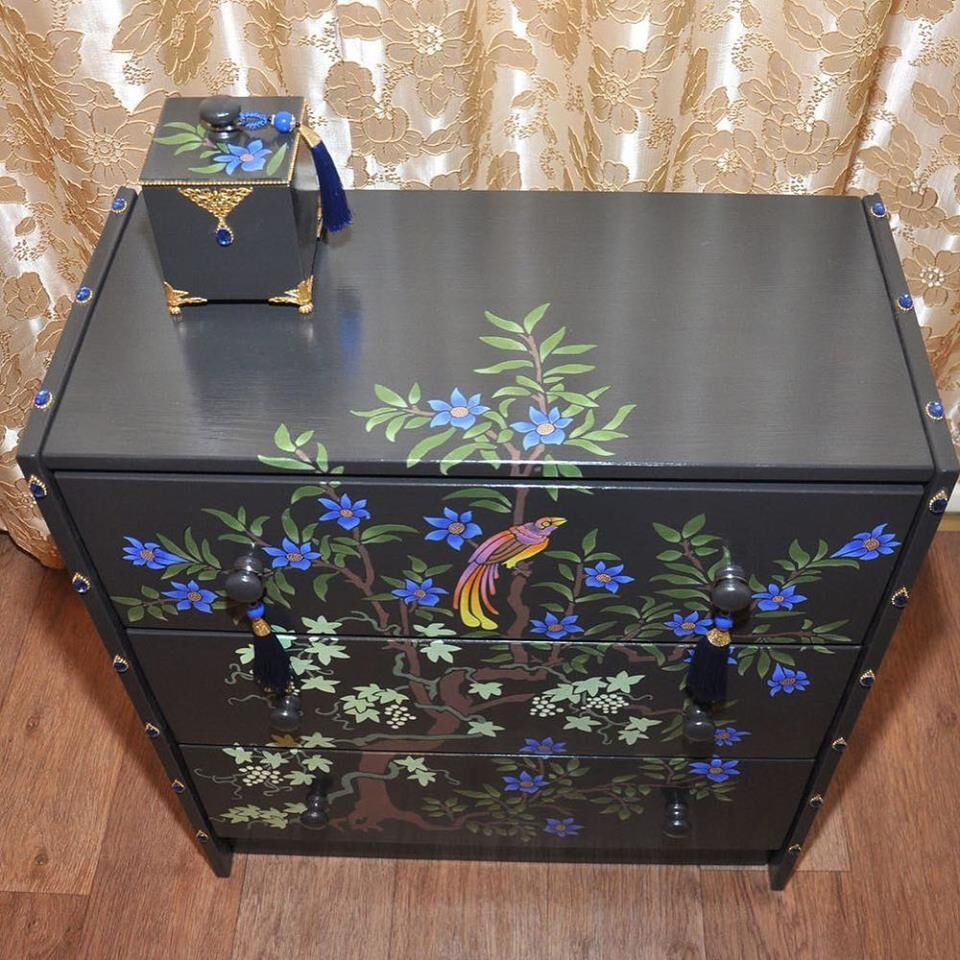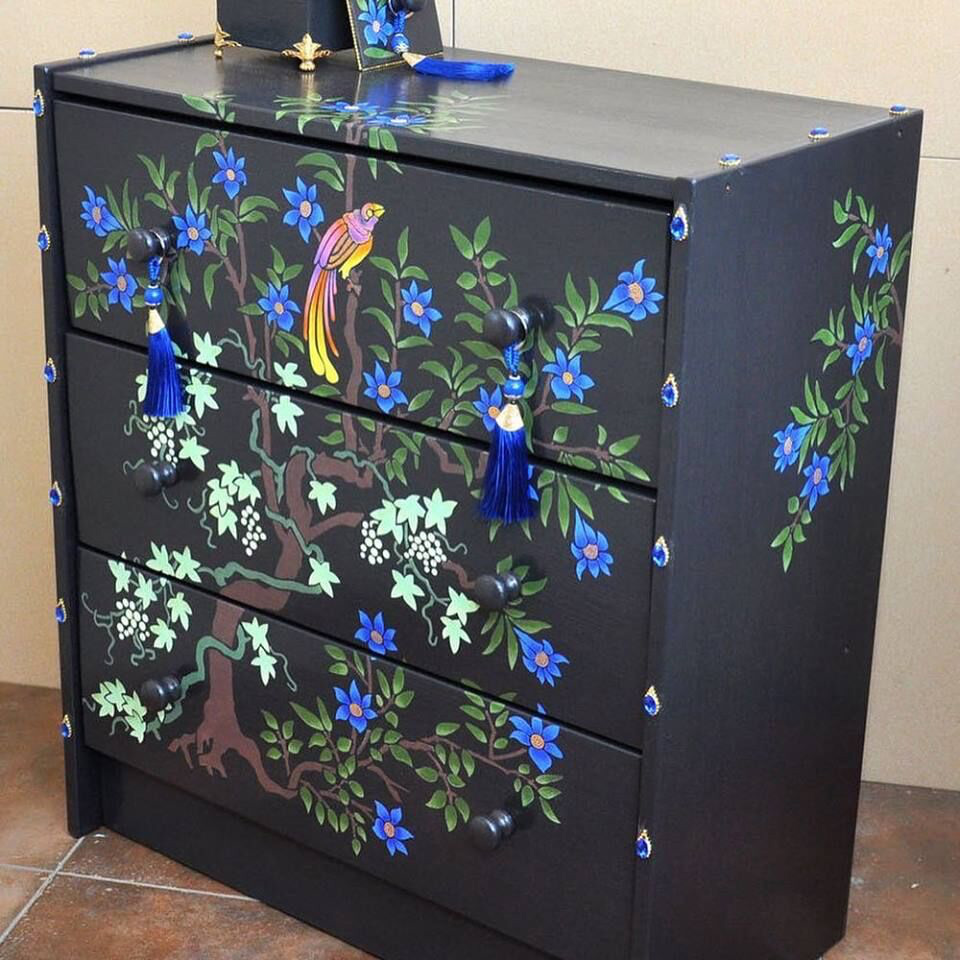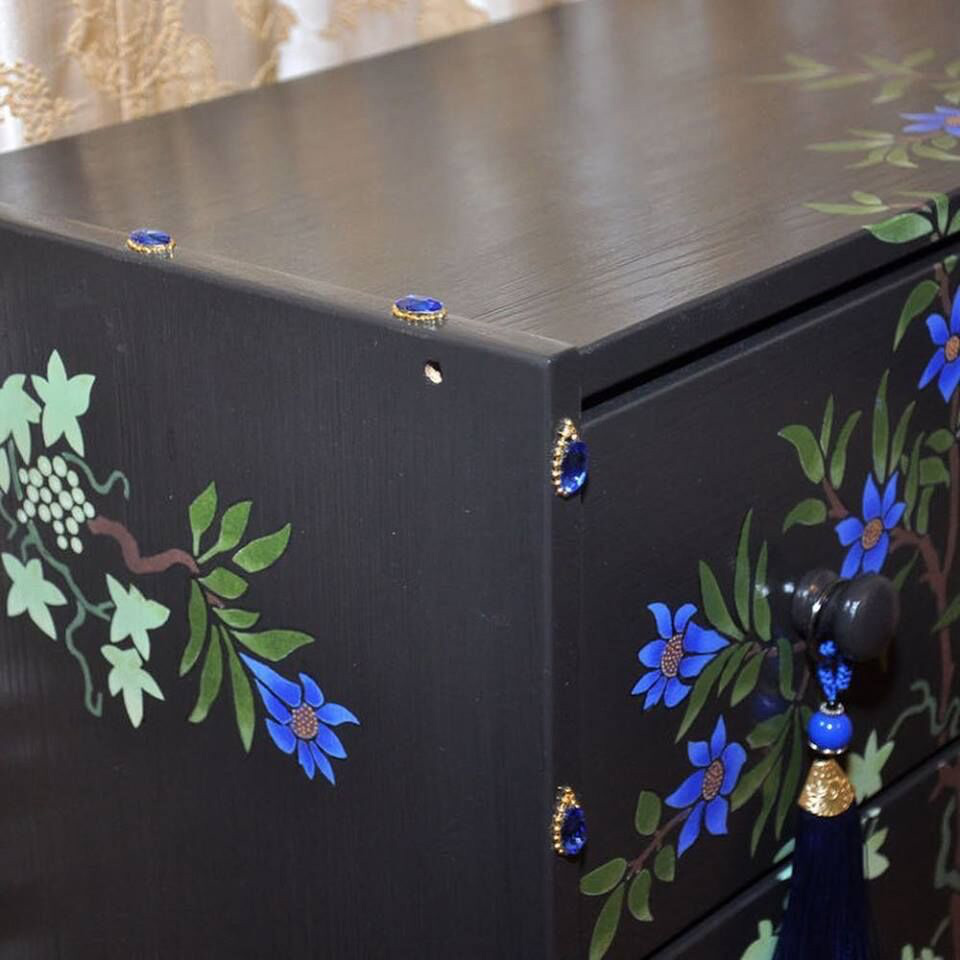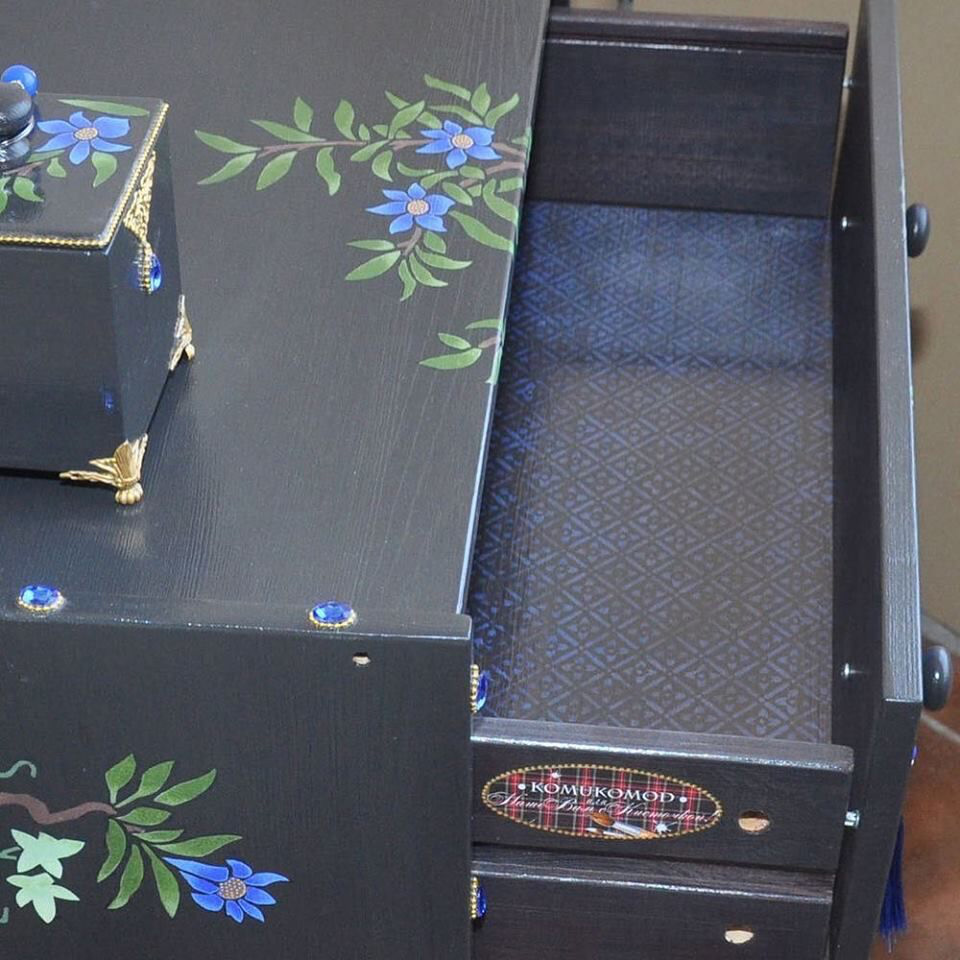 This chest of drawers has been stencilled on a previously plain chest and the stencil used can be found in our oriental catalogue.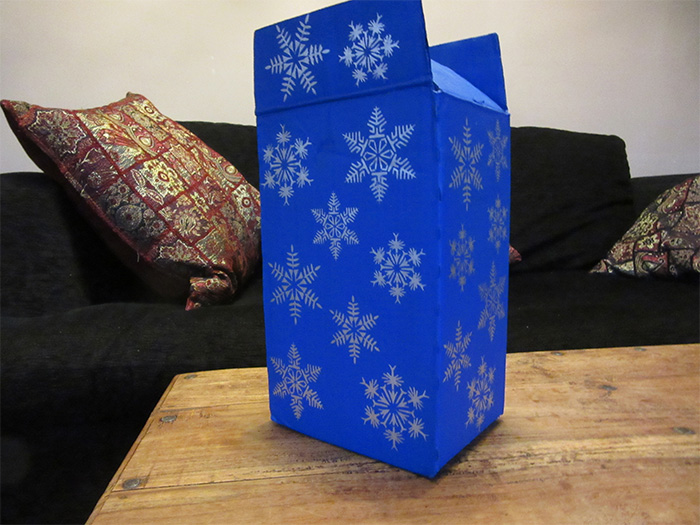 This old wine box has been decorated with snowflakes from our motif catalogue. It now is a useful container for presents.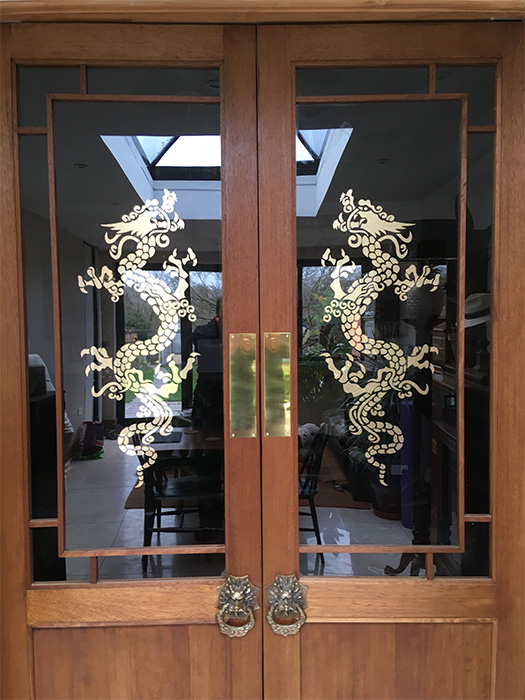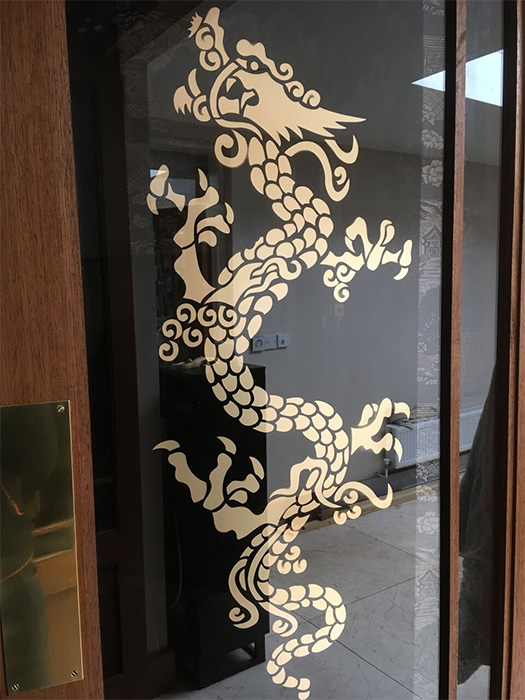 Ian was delighted with the results when using our climbing dragon stencil on the doors of his new oriental themed room. Paint used was rust-oleum mirror effect spray can.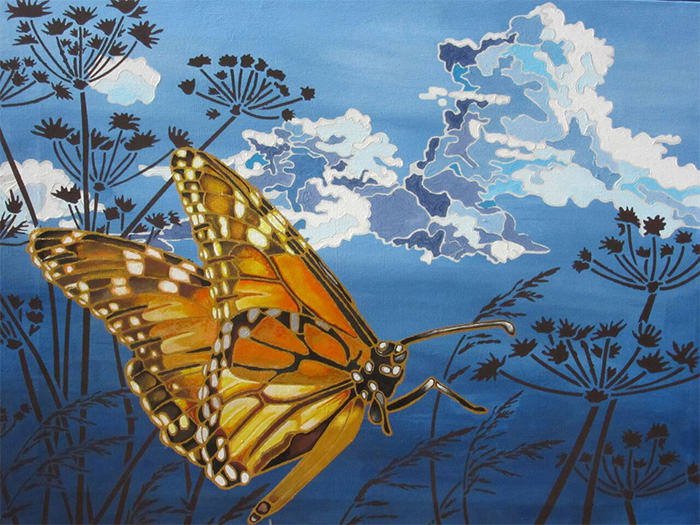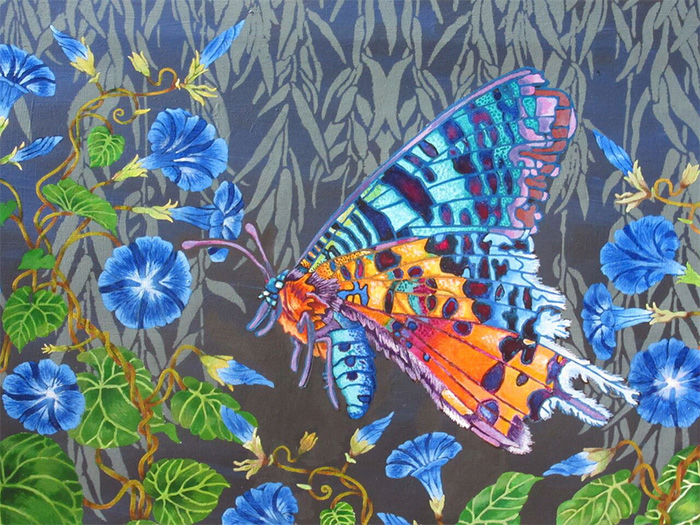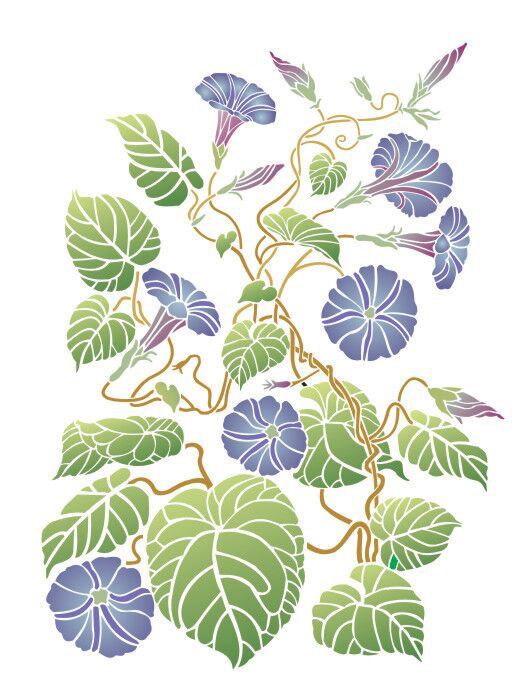 These stencilled butterfly canvases use butterflies from our animal catalogue and cow parsley and morning glory from our flower catalogue.


| | |
| --- | --- |
| Shawn from Minnesota prepared the background for this stunning mural in a graded colour mix. He stencilled the cranes that fly over the wild water in two sizes. | Detail of Cranes from Shawn's stunning mural. The graded background is the perfect foil for Shawn's well planned stencilling. |


This vase has been stencilled onto black fabric using fabric paint.

This Grotesque Vase can be found in our scroll catalogue.


Mano has stencilled this Arabic Panel . There is gold leaf on the back of the glass (reverse gilding on glass or verre eglomise) and a black spray-painted background.

This stencil design can be found in our scroll catalogue.


A storm brewing with flying doves. A symbol of peace. Mixed media on board.

This set of four doves can be found in our animal catalogue.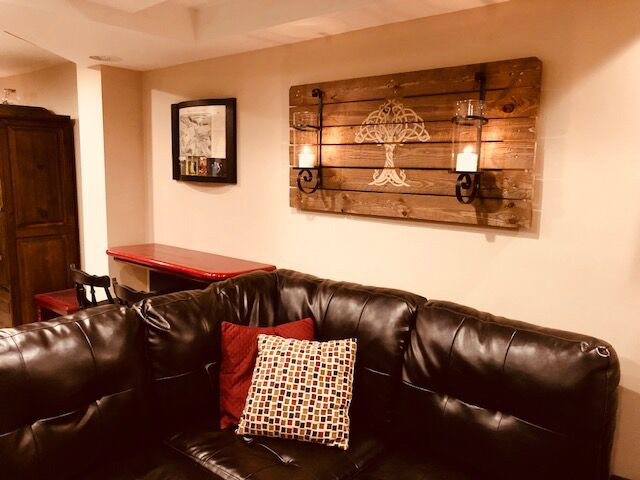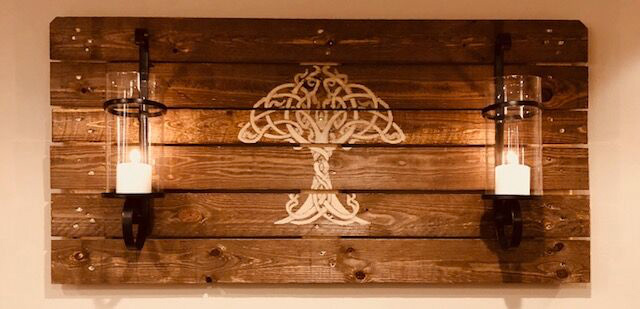 Celtic Tree of Life stencilled by Jen Galligan on a stained pallet, framed by candle sconces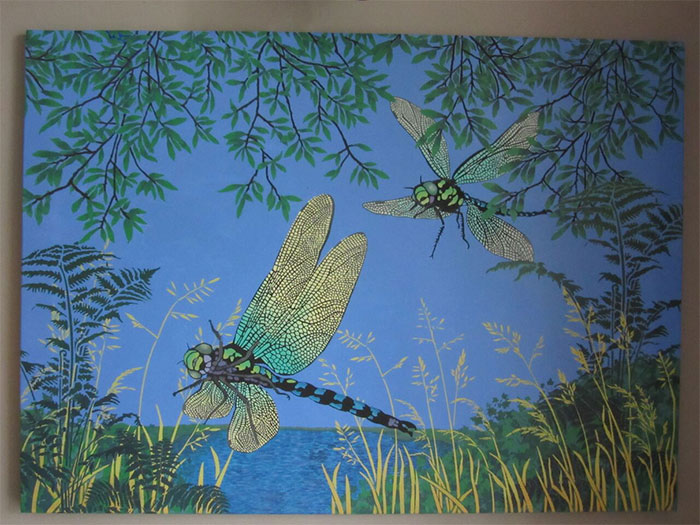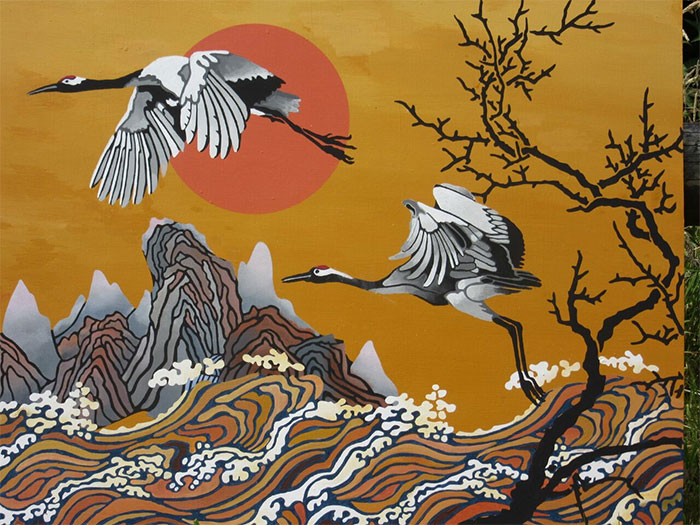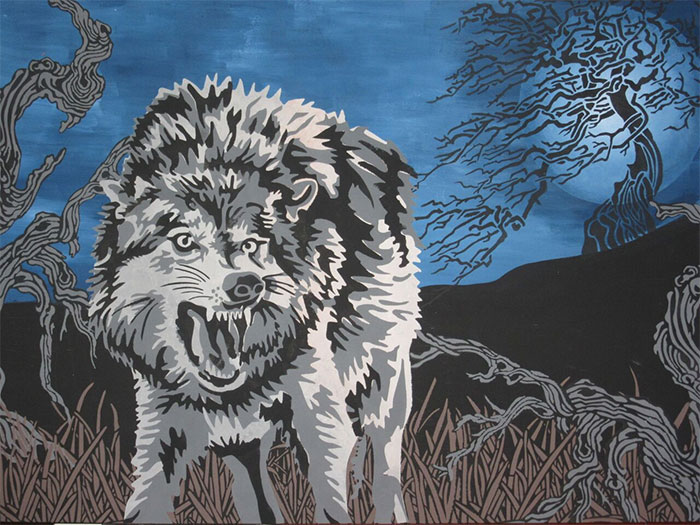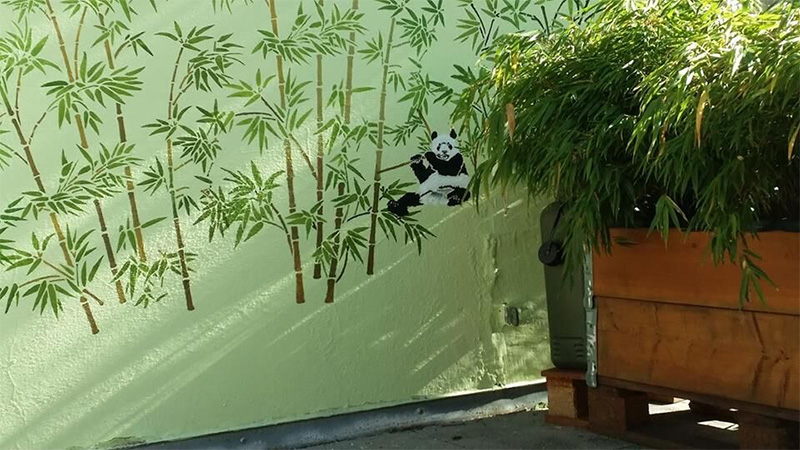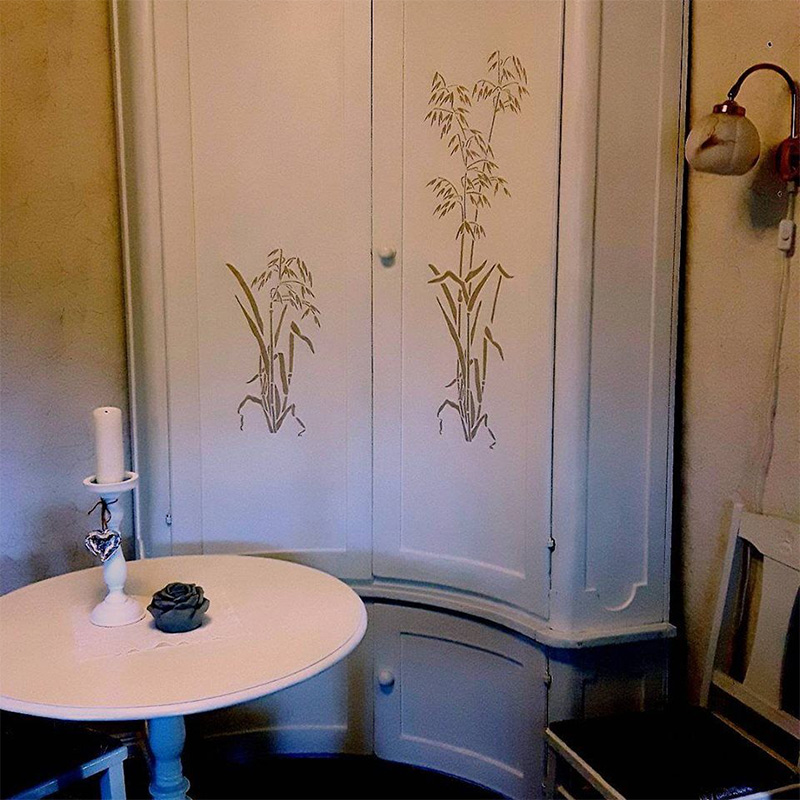 Dolphin and Cherub Panels.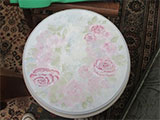 Caroline Key has decorated a piece of conservatory furniture with our stencils to use as a filing cabinet for seeds and to carry a cuttings propagator. She says that this project has given her a lot of pleasure. Many of the stencils used are from our foliage catalogue.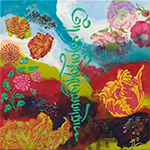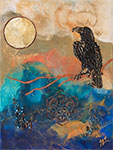 Encaustic work from Dawn Designs. Dawn has filled her artwork with a riot of colour. She has used commissioned stencils and gemstones in her work.

Owl and crow from our animal catalogue and the flower of life from our spiritual symbols catalogue.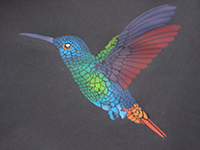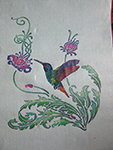 Two painted humming birds from the Animals category.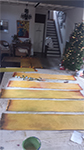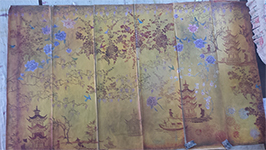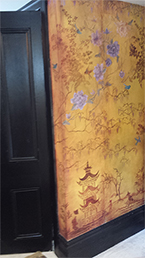 Wallpaper Stencilling from Linda.

"Hi Julie, you sent some stencils to Menzies Creek before Christmas and I promised to send you the results. If you remember it was to be my summer holiday project! Ba ha ha, here we are into autumn and I am still trying to complete it! My idea was to make some old and grungy looking chinoiserie wallpaper for my dressing room to give it a sort of shanghai 1920's opium den feeling. I found some cheap paper wallpaper with a nice texture and used house paint and 5 different tints to create a background, then used acrylics artists paints for the stencils, painting over the birds and peonies to add depth. I finished with a matt glaze coat with a dirty brown tint in it. Here are some of the results."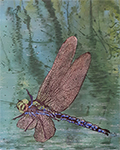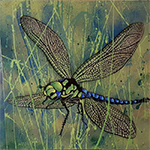 The Artist Known as Neil the Stick Man created these two stunning dragonfly canvases. This artist loves experimenting with paint as you can see in the background's treatment.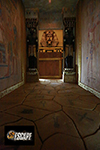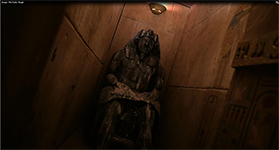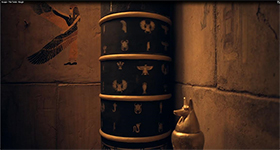 Midnight Productions used some of our stencils in their Egyptian chambers. Gate 13! Dare you pass through? Are there Mummies creeping up behind you? The pictures are dark, but they would be as they were taken inside the tomb.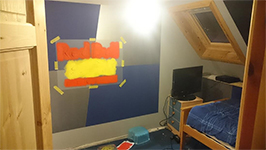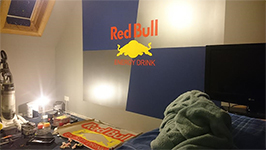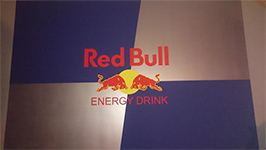 Accomplished stencilling from George Duncan for his lucky son. A fine example of what can be achieved using a layered stencil.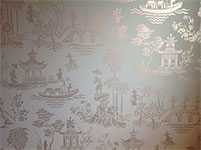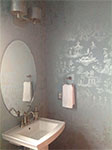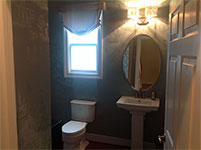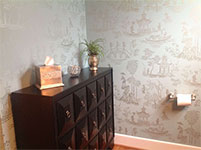 Some very elegant and beautiful stencil work from Mary Ann O'Neill showing how she has she has used our Wallpaper design with Pagodas from our oriental section.


| | | |
| --- | --- | --- |
| Vern Goodlad told me that the stencil he used on his polished venetian plaster was a great stencil of historical art work. Thank you Vern. This hanging was made from a $10 plasterboard, some leftover plaster and this stencil. I think that Vern's work looks great. | | A Fresco ... Very skilled Venetian polished plaster work and stencilling from Vern Goodlad. |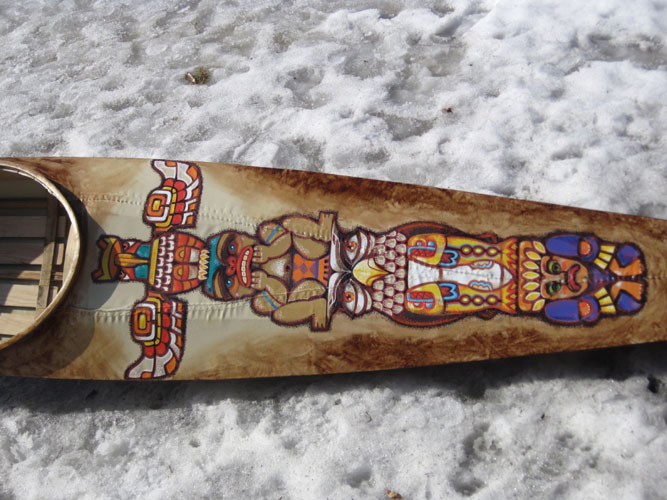 Linda Valure thought the totem pole turned out great: View Stencil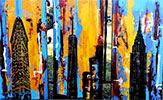 Bold colourful stencilling by talented New York based artist Demi Theoharis.








The stencil is terrific, thank you. Here's a photo for you. My inspiration was a similar piece by Martin Whatson.

The Artwork of Michael Fischerkeller
Margot Fontaine
Painter and Decorator
The Meek Shall Inherit The Earth
Grammar is Dismayed
The stencils used in Michael's work can be found in our Figure Catalogue.


---









Stencil Kingdom is based in Ipstones. These pictures show how our stencils were used to decorate the new community cafe, Cafe Connect, in this friendly village.

The stencils used for this project can be found in our garden, foliage and flower catalogue sections.


---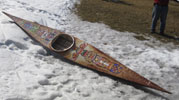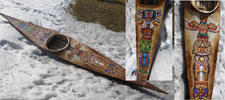 These four images were sent by Elizabeth Wright and Frogtow Kayak.
Instead of using the totem pole stencil parts to create a tall totem pole, Elizabeth used this design to decorate her Kayak. This is what she said:-
" I thought you might be interested in how I used the "totem pole" stencil on my skin-on-frame kayak. It was great that the designs were separate, because that made it easy to conform the icons to the width of the fore and aft deck of the boat. Thanks for such a great product!
Betsy Wright,
& Frogtown Kayak "

This totem pole stencil can be found in our American catalogue section.


---




Mano sent a couple of photos of projects he did. They are both done entirely with metallic foil - no paint. Mano's swan composition was inspired by the picture illustrated in the watergarden catalogue section.
Mano sent an explanation as to how he used foiling.
Click here to read.



---




Stencilled Greek Vase from our Greek selection
Tyre track from our motif section.


---



Nikki sent me this stencilled Margot Fontaine.
This stencil has three layers and Nikki's work here is stunning
"This is of my stencil I did on my landing wall as you walk up the stairs. It's beautiful and I'm really pleased with it. I also put 4 small stick on jewels on the the tiara and some down the centre of the dress that catch the light."


---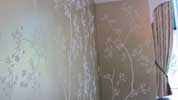 Beautiful and luxurious stencilling on silk using our birds in Bamboo stencil set. This finely stencilled silk wallpaper is from Lou Louis Interiors.


---





Marilyn decorates hand made furniture and here she has used our tree frogs to great effect.


---



Hello Julie at Stencil Kingdom, thanks for your quick shipment of my order. I have attached a photo of my usage of your Tree of Life stencil. I am not an artist. I'm not even a very good stenciler. But... I have fun. I took a piece of canvas about 26" x 38" and covered it with gesso. I added a layer of acrylic paints going from light yellows (for the sun) to green (for the earth). I then painted various foam stamps with acrylic paints and stamped them on the surface. I stamped all kinds of things including hearts, flowers, etc. I tried to keep the stamped colors also in light shades. Next I applied the stencil. After roughing in the shape with heavy body acrylics, I pulled the stencil off and added more paint using paint pens and Sakura glaze pens. This now hangs in my bedroom.
This is probably not the best you have ever seen but I am very happy with the result!
Nina , Chino Valley, Arizona, USA


---




I really like the colouring chosen for this sunfire plant stencil from our scroll catalogue.


---
| | | | |
| --- | --- | --- | --- |
| We acquired these elaborate gilded chairs. Unfortunately their arrival made the old pine table look sad. | I decided to use this Grotesque design from my scroll catalogue section to make a tablecloth to compliment the room and hide the table. | The finished tablecloth in situ. Six repeats of the stencil were used on the finished cloth | Detail from the finished tablecloth. I used Bronze fabric paint on Black material |
---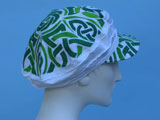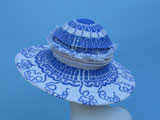 Tracy Thomson from Kabukihats used our jellyfish stencil to create this unique hat and our Celtic Bressay Cross to create this stylish hat.




---



This cactus is from Linda Holtz Finn
"All the way from Britain to Nevada U.S.A. on the walls of my backyard"




---



Talented designer Jeff Raum adapted our Birds on Blossom design from our oriental section to create this medallion for a teenagers dream room.


---




Joe Kuna sent in this stunning table which he decorated using our Leopard Stencil.


---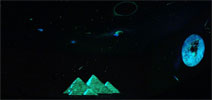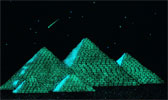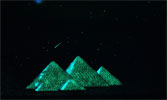 This stencilling using glow paint was by Martin Falc for the Egyptian owner of a massage salon in Prague
It was very nice and easy to work with the stencils. Pyramids went easy and for the Sphinx I had more time selected so I used all three stencils. First layer I put only very small amount of paint and then on second and third just normaly.
It looked fantastic in that massage salon.




---







Alex started with a plain pine cuboard which she painted black and then proceeded to transform it. Three stencils were used. They are the rope and bead border from our classical catalogue section, intertwining flower border and peacock with blossom from the flower section. This beautifully coloured cuboard was hand finished with gold paint. We custom sized the stencils to fit Alex's cuboard.


---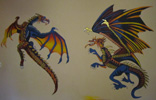 I painted these dragons for my son and daughter-in-law on a wall in their games room. They are based on my Dragon Flight and Dragon Stand stencils.


---




Alex used our Peacock with Blossom stencil from our flower section to paint her plain table. The results are stunning and the design has been protected under a layer of varnish.


---



The chest is for my 8 year old grandson who LOVES robots. I searched quite a few sites and was thrilled to find your robot stencil. It's adorable! thanks again,
Carol


---




Burj Al Arab and Space shuttle with Moon and Saturn
This is the work of Martin Falk, whose company is called Hvezdnestrophy and is based in Prague. Martin specializes in using glow paint with his stencil work. When the lights are turned off, the images glow and come to life.


---





Diane Bessette has used our stencils on her fine pottery work


---



Homes and Gardens featured this paisley stencil in their April issue.
It is available in several sizes


---





First time stencillor Shauna intended a quick lick of paint for her bathroom but thought the bare wall was just begging for something extra.

She soon got the hang of it and used a new washing up spongue cut into squares. She couldn't tell how it was going to turn out until the final layer was peeled off. She was amazed with the result.


---




Jeff Raum used our Bamboo with Birds for a showcase house in Newport Beach.
The Bamboo without the birds was used in a meditation centre.


---



I made a floor cloth for my boss with your stencil. We think it turned out splendid! She is thrilled.
Sally
---



We custom sized our Gothic Font lettering making 18 seperate stencils, one stencil for each step on these stairs.
Alex stencilled her favourite Leonard Cohen poem in gold and was delighted with the results
---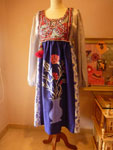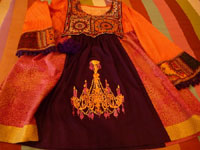 Here are two dresses that I've designed using both the chandelier stencil from the motif collection, and the Turkish vase with flowers stencil from the Ottoman collection. They turned out to be soo pretty although it's my first time in using stencils on fabric :)
Thank you
Reem at Aram mixed media.


---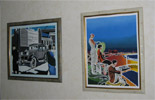 Illustration of two stencilled travel posters.


---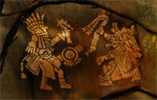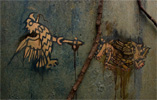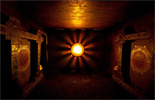 Set Design Work by Erin Cesrao and 21 year old Jesse Farrenkopf.
Erin and Jesse created an Aztec/Mayan temple for a major haunted house company.
Here are some photos showing some of the stencilling detail.
"We painted the walls with a teduois mixture of sand and paint, and then just went absolutely crazy on the place. We couldnt have done it without your business."



---




This bench was built as a shelter from the wind and positioned in the garden where the sunsets can be watched. First the bench was painted with blue preservative and then the grasses and cow parsley were stencilled in silver paint. Quick and easy.




Just wanted to show you the palm tree stencil I did. I think I will do another one on the other side. I was a bit worried at first, but once I got going it was quick and easy. I used a sponge. It took me just 30 minutes. Thank you. Great stencils.
Penny Brown, Pagham, West Sussex


---






---